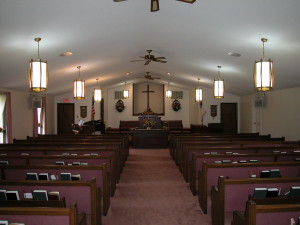 A community Bible study began on January 14, 1981 with 14 people present and became known as the South Berkeley Baptist Mission. The sponsoring church was Hedgesville Baptist. The mission began meeting in a worship service on March 1, 1981 in the Inwood Fire Hall. The official launching of the mission was April 5th. In 1983 South Berkeley began receiving substantial financial help and encouragement from Ardmore Baptist Church in Winston-Salem, North Carolina. That support continued through 1985. On one occasion, a deceased member of Ardmore Baptist left $4,250 to South Berkeley through her will.
The South Berkeley Mission voted to purchase three acres of land fronting on US Route 11 near Musselman High School in 1982. On May 8, 1984 the church was informed that their application for permanent financing by the Home Mission Board's Church Loans Committee was approved for $63,000. A ground breaking ceremony for the new church building was held on April 29th and churches from North Carolina sent work teams to help with the construction.
In 1985 the mission was constituted as South Berkeley Baptist Church. The church's first pastor was Rev. Robert Jackson. The first service in the new building was held November 4th. Since that time a fellowship hall and a parsonage have been added to the property.